Old Ordnance Survey Maps of Surrey
---
This page summarises the local government organisation of Surrey since 1889.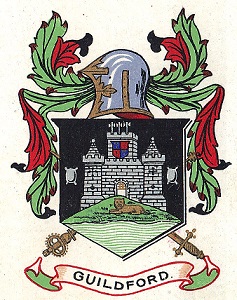 Surrey County Council was formed in 1889, and in 1894 a network of boroughs, urban district and rural district councils was formed across the county. However, some areas close to London, notably those covered today by the London Boroughs of Lambeth, Southwark and Wandsworth, became part of the new London County Council.
Surrey had just three Boroughs in 1836, following the previous year's Municipal Corporations Act: Godalming, Guildford, Kingston upon Thames. However, as London expanded into its suburbs and commuterland, and populations grew, so numerous other towns aspired to become Boroughs. These were the ones that achieved that status: Reigate (1863), Croydon (1883), Richmond (1890), Wimbledon (1905), Barnes (1932), Mitcham (1934), Sutton & Cheam (1934), Maldon & Coombe (1936), Surbiton (1936), Beddington & Wallington (1937), and Epsom & Ewell (1937). Carshalton (twice), Coulsdon & Purley, Farnham, and Woking (twice) applied to become boroughs but failed.
From 1894 there were also numerous urban districts. These had similar powers to boroughs but had less prestige and were not entitled to elect mayors or aldermen. These were: Barnes*, Carshalton, Chertsey, Dorking, East Molesey (East & West Molesey from 1895), Epsom, Farnham, Frimley (Frimley & Camberley from 1929), Ham, Leatherhead, New Malden (The Maldens & Coombe* from 1895), Surbiton*, Sutton (Sutton & Cheam* from 1928), Walton upon Thames, Weybridge, Wimbledon*, and Woking. Those marked * later became Municipal Boroughs. Croydon became a County Borough in 1889 so was effectively self-governing.
As populations grew, so further urban districts were established: Esher & the Dittons (1895, renamed Esher from 1933), Caterham 1899 (Caterham & Warlingham from 1929), Egham (1906), Merton 1907 (Merton & Morden from 1913), Windlesham (1909), Haslemere (1913), Beddington & Wallington* (1915), Coulsdon & Purley (1915), Mitcham* (1915), Banstead (1933).
In 1933 there was some reorganisation. East & West Molesey was absorbed by Esher UDC, Ham was absorbed by Kingston MB and Richmond MB, Windlesham was absorbed by Bagshot RDC, Walton upon Thames and Weybridge were amalgamated as Walton & Weybridge UDC.
There were also 11 Rural District Councils in 1894, covering the areas outside the major towns, but these had less powers. Initially most were based on the Unions, met at the Workhouse, and had the Guardians serving as councillors. These were: Chertsey, Croydon (abolished 1915), Dorking, Egham (abolished 1906), Epsom, Farnham, Godstone, Guildford, Hambledon, Kingston upon Thames (abolished 1895), and Reigate Rural Districts.
There was reorganisation of the rural districts in 1933. Chertsey, Dorking, Epson, Farnham, and Reigate RDCs were abolished and they were absorbed by neighbouring councils. Two new Rural Districts were formed: Bagshot RDC and Dorking & Horley RDC.
---
In 1965 there was major reorganisation as the Greater London Council was established and Croydon, Kingston upon Thames, Merton, Richmond, and Sutton became London Boroughs. See their individual pages.
Following further reorganisation in 1974 a 2-tier system of government was chosen, with a County Council (with an HQ outside the county at Kingston) and 11 Districts. These are: Elmbridge, Epsom & Ewell, Guidford, Mole Valley, Reigate & Banstead, Runnymede, Spelthorne, Surrey Heath, Tandridge, Waverley, and Woking. All except Mole Valley and Tandridge have borough status. There were also some boundary changes: Gatwick Airport was transferred to Sussex. The county town is Guildford.
---
For a list of Surrey maps go to the Surrey page or for Croydon to the Croydon page. For other London boroughs, go to the London page
You can order maps direct from our On-line Mapshop.
---
Minor changes are not listed here, but please advise us of any significant errors or omissions.
---
Alan Godfrey Maps, Prospect Business Park, Leadgate, Consett, DH8 7PW. Tel 01207 583388
---
The Godfrey Edition / sales@alangodfreymaps.co.uk / 8 May 2018