A History of Oldham
This short history was written to accompany our map of Oldham in 1891.
The map is available through our On-line Mapshop.
---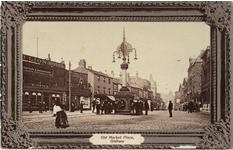 This map, packed with fine detail, portrays Oldham near the height of its prosperity as a cotton town. The population of the borough had risen from 12,024 in 1801 to 131,463 by 1891, and would peak at 147,483 in 1911. There were 321 cotton mills in the Oldham district (ie including Chadderton, Royton and Crompton), with 10.8 million spindles. The latter figure would rise to a massive 17.2 million by 1921, representing 29.8 per cent of the UK total, and 11.5 per cent of the world total of spindles, and the town itself had become a major centre for machine-making and for mill architecture. The 1920s, however, would see the beginning of what would prove to be precipitous decline.
The Victoria County History, written in 1911, noted that "The modern history of the township is mainly that of the progress of its mining and manufacturing industries, beginning from the early part of the 17th century. The great extension of them occurred at the end of the 18th century, on the introduction of machinery; the growth of the place from a few scattered hamlets to a large well organised town has since been rapid. Hatmaking was formerly an important industry, but decayed [early in the 19th century] after the introduction of the silk hat. Machine making was introduced about 1794. Cotton mills are, however, the most prominent business establishments. The mills in the district are said to consume over a million bales yearly, nearly a third of the cotton used in the kingdom".
Early sketches of Oldham generally show its church tower standing proudly on the hill while, a few yards to the west, Market Place was a natural junction for the principal roads to Manchester, Rochdale and, via Saddleworth, Yorkshire. An Act of 1735 provided for a turnpike road from Manchester via Oldham to Austerlands, on the Yorkshire border, but little was done to improve the roads until 1759, when the Austerlands-Wakefield Trust was authorised. Even then there was little progress until the 1780s, but in 1790 Oldham finally became a stopping point for a three-times-a-week Manchester-Wakefield 'light coach', travelling on via Delph, Marsden, Huddersfield and Dewsbury. The formation of a Ripponden & Oldham Trust in 1795 forced the Austerlands trustees to improve their road, even diverting it away from the old Greenacres Road route, and by 1806 a branch was being planned "to the village of Royton" . Even when the routes across the Pennines had been improved, Oldham itself remained a bottleneck, with part of Yorkshire Street described as 'disgustful' in 1817 and High Street scarcely wide enough for two carriages to pass. In 1825 it was decided that Union Street should be "made, completed and finished" as a turnpike road, and the following year Parliament approved the setting up of Commissioners to run the town. One of their first tasks was to take control of some of the town roads.
By 1825 several of the town's pubs could claim to be coaching inns. Foremost was the Angel Inn (opposite the 'H' of High Street), which dated back to at least 1770 and probably much earlier. By 1790, when it was partly burnt down and rebuilt, it is recorded as having 2 coach houses and stabling for 24 horses, and this trade increased in the early 19th century. A directory of 1825 lists the Wonder and Morning Star, each daily between Manchester and Huddersfield, the Cornwallis to Wakefield, the Royal Sovereign (daily), Royal Independent and Wellington (twice weekly) to Manchester, all calling here, while another eight coaches which stopped at a General Coach Office in Market Place probably provided trade too. Until 1841, when a Town Hall was opened on Yorkshire Street, the Angel also served as the meeting place for Commissioners and other officials, but may have been struggling by 1857 when the landlord, William Heginbottom, who had taken on the licence three years earlier, committed suicide. Prosperity returned in 1881 when Mary Yates, who ran the Grey Horse in Preston, bought the Angel, installing her nephew Peter Yates (1854-1944), who had been sent to Spain to learn about wine, as manager. He founded the first Yates;s Wine Lodge here, jointly with his brother Simon, and would be licensee from 1884-1902 and again from 1917-44, while Simon's son Charles Yates held the licence until 1953. In 1927 a new Wine Lodge was built to the rear of the old one, to allow for road widening, and the family also owned a local bakery, a farm and a Manchester tobacco mill. The Yates name continues today, under the Stonegate Pub Co, and is claimed as England\rquote s oldest pub chain, though the 'Wine Lodge' suffix was dropped in 2001.
Other inns also benefitted from the trade. The Three Horse Shoes, at 3 Huddersfield Road, Mumps, was the calling point for the Clothier and Trafalgar coaches to Manchester and would later cater for travellers of another kind, when in the 1890s it became headquarters of the Oldham Cycling Club. Two other Mumps inns provided for Manchester coaches, presumably taking advantage of the easier Union Street route - the Red Lion, with the Defiance, and the Bull's Head, with the Industry - while the George Inn, on the corner of High Street and Clegg Street, played host to the Tally-Ho to Manchester, as well as at least ten less prestigious 'Land Carriers', mostly between Manchester and Leeds.
Of all the other pubs and inns mentioned on the map, mention must be made of the Albion, across the road from the Angel. This dated back to a Pack Horse Inn, existing in the early 18th century, later renamed the White Horse and popular with political agitators - several of those who marched on the day of the Peterlee Massacre in 1819 came from here. By the 1830s eight coaches a day were changing their horses here. In 1835 the pub was renamed the Albion, but its real growth came in the 1850s when William Boothby developed the brewing side of the business. This outgrew the space available and in 1867 Boothby took a former hat factory at Coldhurst and established the Albion Brewery. Boothby retired soon afterwards - a cornice stone falling from the pub and killing a policeman hardly helped his licence application - but the brewery was sold to a consortium which formed Oldham Brewery Ltd. These later acquired the Albion pub, which was rebuilt in 1936 but closed in 1972. Oldham Brewery was acquired by Boddingtons in 1982, and later by Whitbreads, when brewing ceased; but the brand has subsequently been acquired by Robinsons, who have revived an 'Oldham Bitter', brewed to the original recipe, "a full bodied golden ale [with] a soft, sound and hop dominated palate complemented by a clean crisp after bitterness".
Churches and chapels are almost as numerous across this map as pubs, but pride of place goes to the historic parish church, St Mary's, a dominant feature in all early prints of the town. Oldham stood within the vast parish of Prestwich, sometimes referred to as Prestwich-cum-Oldham, and until the 19th century St Mary's was, strictly speaking, a chapelry, albeit with more autonomy than most. Its early history is unclear; it may date from 1280, but by 1476 the building was in need of major restoration, and subsequent sketches show a long, somewhat squat building, with N and S aisles, and with a square tower topped by a prominent weathercock. By the early 19th century, however, the building was in poor condition, matters coming to a head when the vestry chimney collapsed in 1825 during Sunday service. Plans by the architect Charles Barry would have seen the old church incorporated into a new, but these were rejected in favour of a complete rebuilding. The old church was demolished in 1827 and the new one, in a Gothic Revival style by the Manchester architect Richard Lane (1795-1880), was consecrated in 1830. The interior is especially fine, and includes an acclaimed 1975 decor by Stephen Dykes Bower. Richard Lane, perhaps best known for his work on Manchester's Victoria Park, also designed Oldham's Bluecoat School, built 1829-34 in the Tudor Gothic style. This was built as a charity school, endowed by a hatter, Thomas Henshaw d.1810, though litigation led to a delay in its building. In the 19th century it normally taught 100 to 130 boys, many of them boarders, but in the 1950s it became a co-educational day school. It is now regarded as a Leading Edge school, and also has science college status.
Crompton had merited its own chapel of ease since 1515 but the mid-18th century brought demands for others and chapels were built in Royton and Hollinwood. Nearer to home a local chapel of ease, St Peter's was built just across the High Street. This was consecrated in 1768, given its own parish in 1835 and played a major part in the establishment of a local school on Union Street. Music was also important, and the installation of a new organ in 1775 was celebrated with the Messiah, with full choir and orchestra, and with an organ concerto between the acts. The church was completely rebuilt in 1901, now with an octagonal lantern tower, but closed in 1961 and was later demolished. St Mary's parish then became 'St Mary's with St Peter's'.
Other churches shown here included Holy Trinity, at Coldhurst, consecrated by Bishop James Prince Lee in 1848, the day after his enthronement at Manchester; at the time it was on the edge of the countryside and a lych-gate continues to give it some charm. St Andrew's, on Middleton Road, was opened in 1873, but later suffered from road developments and slum clearances, and closed in 1979, though services continued for a while in the church hall. St James's, just off the Huddersfield Road, was a 'Waterloo' or Commissioners' church, opened in 1829 with seating for 1,800. Charles Barry, who had an unhappy time of it in Oldham, was the original architect but was replaced by Francis Goodwin when the tenders far exceeded his estimates; this is now Oldham's oldest church. St Stephen's, originally a mission to St James's, was opened in 1873 on Shaw Street (today Thames Street), Lowermoor, designed by a local architect, G Mitchell; military and theatrical connections came with the Rev J W Orton, chaplain both to the Oldham Volunteer Battalion and the Actors' Church Union. Christ Church (on Hamilton Street, Glodwick) was built in 1844, just before the railway and industry blighted the area; land granted by Richard Curzon-Howe, 1st Earl Howe, enabled a school to be built close by. The railway companies then tried to force the church's closure, so that they could develop their sheds and sidings, but Christ Church resisted, and survived until the 1960s.
From 1829 Catholics worshipped in a former Unitarian chapel on Lord Street, but opened their own church on Shaw Street in 1839; a new church, the current St Mary's, was opened in 1870. More central was the church of Our Lady of Mount Carmel and St Patrick, commonly known as 'St Pat's', on Union Street West, originally a chapel of ease to St Mary's and opened in a disused chapel in 1858; a new church was opened in 1869 and was much used by those visiting the Infirmary across the road. Many other churches and chapels are shown here - John Beever lists over a hundred in his History of Oldham Churches - and each has its own history. Many have since closed. By 2011 some 17.7 per cent of the borough's population was Muslim, but for the Coldhurst and St Mary's wards, covering most of this map, the figure was around 60 per cent (Coldhurst principally Bangladeshi, St Mary's with a large Pakistani population). Mosques include the Jamia Masjid on Greengate Street.
A few public buildings demand special notice. The Town Hall, built in 1841, was designed by Joseph Butterworth with an Ionic portico facing the High Street. A grand facade on Greaves Street was added in 1880, but the building was allowed to fall into disrepair in the late 20th century. At the time of writing it is at last being restored. Of greater interest is the Lyceum, which originated in a meeting held in 1839 when it was agreed that "It is highly desirable that Oldham at length emulate the example of every town of importance in the Kingdom, by establishing a Lyceum, or Mechanics Institution, having for its object the moral and intellectual improvement of the inhabitants". This opened in a house on Queen Street and a purpose-built building was opened on Union Street in 1856. In 1865 this was extended to include a School of Science and Art, but this was demolished in 1881 and rebuilt in the same style as the Lyceum, giving the handsome building that we know today. Clare Hartwell describes it as "A long dignified front, Italianate, with upper arched windows and urns along the parapet". Facilities were improved, including an observatory and billiards room, and a Literary Society and School of Music were formed in the 1890s. A theatre was opened in the basement in 1938. Other buildings on Union Street include the Library, opened in 1883, and, further east, the Adelphi Theatre, opened in 1875 but later converted into the Victory Cinema.
The mills, of course, dominate Oldham's history but these are better described on our 1905 map and given a full gazetteer in Duncan Gurr's Cotton Mills of Oldham. A new wave of mill building in 1889-90 incorporated fresh ideas, with concrete floors and steel girders increasingly the norm, and the buildings becoming wider - square rather than rectangular - to accommodate longer mules. Along with the new mills, more likely to be built on the outskirts of town, came extensions. Derker Mill, for instance, was first built in 1810 by James Greaves, with a large weaving shed added in 1868 by his son, Hilton Greaves. Extensions were made in 1870, 1873, 1875, 1882, 1892 and 1894 - a never ending process. Production ended in 1966 and the mill was demolished soon afterwards. Hilton Greaves d.1895, a generous benefactor to local churches and schools, lived in Derker Hall, one of few detached houses on the map. Greaves, nicknamed 'Old Darby', was described as "wearing a stiff felt hat, with rounded crown and narrow brim, which had originated in the United States". By this time the hall, which may have dated back to at least the mid-18th century, was out of date, and Hilton Greaves retired to Cheshire around the time of our map. A house builder, Henry Wrigley, lived here for a while, but Derker Hall was demolished in 1902. Also deserving mention is Orleans House, off Rochdale Road, built by mill-owner Joseph Rowland c.1805, and later occupied by his son, also Joseph. It stood adjacent to the Orleans Mill, but this had been demolished in the 1880s. By 1891 the house was being referred to more modestly as 68 Rochdale Road, and then as 102 Rowland Street, and it later became an RSPCA animal clinic. It was demolished in 1998. Such houses were exceptional, and the true position was eloquently described in the Manchester City News in 1908: "The Mills stand cheek by jowl with dwellings, hotels, perhaps even churches... Within a few yards of the town hall you can hear the low purring growl of caged machinery, and the smoke of the innumerable tall chimneys lies over all like a poultice...Brick houses and shops go on for ever, and at the back of them, blotting out all the rest of the world, rise great precipitous mills like frowning cliffs, at whose base are the small houses where folks live like coneys at a Mountain foot"
If Oldham achieved greatness - and for a few decades it was indeed one of the world's great industrial towns - it came through education, and especially technical education, bringing an artisan workforce which not only staffed the mills but designed, developed and built them, culminating in the work of P S Stott, who moved his offices from Clegg Street to Yorkshire Street around the time of this map. It was Oldham ingenuity and graft that developed the machinery to go in the mills, represented here with several works in the Greenacres area. Samuel Lees founded a roller making works in the 1790s, establishing the Soho Iron Works, and this was inherited and developed by his son, Asa Lees (1816-82), exporting power looms to St Petersburg from 1843 and, though later concentrating on mules and spinning equipment, advertising "all kinds of Textile Machinery". The firm, notable for its secrecy, never published accounts, but prospered under the management of Robert Taylor, with production peaking in 1906. Platt Brothers & Co, developed especially by John Platt (1817-72), was the largest textile machine manufacturer in Lancashire, and probably the world, and is said to have astounded American visitors with the size and sophistication of its production lines. The firm had been established on Huddersfield Road by Henry Platt and Elijah Hibbert - the Hartford Old Works - but in the 1840s new premises were acquired at Werneth, the 'Hartford New Works', and in 1868 they moved their headquarters there. By the end of the century the firm employed about 12,000 and many workers owned shares in the mills, so encouraging them always to buy their machinery in the town. Also shown here is the Castle Works, home to Oldham's largest firm of engine makers, Buckley & Taylor, who built compound and beam engines for mills, employing about 400 workers. The founder was Samuel Buckley (1837-1911) who, like most company owners, was active in local affairs, serving as mayor on three occasions and as chairman variously of the waterworks, libraries and gas committees. And so the wheels went full circle, with the workers investing in the companies, and with the bosses putting much of their wealth back into the communities that served them.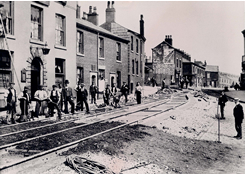 Ironically, though Oldham had been a modest coaching stop on the road across the Pennines, this was never repeated in the railway age; when the Manchester & Leeds opened its route via Littleborough in 1839-41 it by-passed Oldham to the west. The nearest station was (and is) Mills Hill and the Albion pub on High Street, trying to cling on to some of its old coaching trade, laid on ten omnibuses a day to meet the trains. A branch was opened to Werneth in 1842, extended to Mumps station on 1st November 1847 (by which time the company had changed its name to the Lancashire & Yorkshire Railway) and on to Rochdale in 1863, but the steep Werneth Incline, cable-hauled for several years, proved a handicap to operations; in 1880 a 'cut-off' branch was opened from Thorpes Bridge Jct via Hollinwood to Werneth. The condition of Mumps station was criticised locally and it was rebuilt in 1887 by Thomas Wrigley as an island platform with a single line bay at each end. Withdrawal of the service from Mumps to Rochdale was approved in 1972 but, thanks to local support, did not take place. Oldham Mumps station closed in 2009 when the 'Oldham Loop' was closed for conversion to a tramway.
Glodwick Road station, described by Harold Seville in 1927 as "rather dismal", was opened by the London & North Western Railway in 1862 on their line to Greenfield, on their main trans-Pennine route. This branch had actually opened in 1855, but trains had been able use a platform adjacent to Mumps station, before that was altered to allow running towards Rochdale. Many of the trains to Greenfield continued on to the Delph Branch - the 'Delph Donkey'. Glodwick Road closed to passengers in 1955 though the line remained open for freight until 1964.
The other railway entering our map was the Oldham, Ashton & Guide Bridge Junction Railway, a 6.25 mile line from Guide Bridge opened in 1861. In 1862 this was leased to the L&NWR and Manchester, Sheffield & Lincolnshire Railway (MS&LR) and worked by them jointly, though the MS&LR (later the GCR) provided the engines and coaches. The line's main station was at Clegg Street, S of this map, but trains continued on to Glodwick Road. Most continued southward to Stockport, but the line was busier with coal. All the companies had sheds for cotton and other goods, but a passenger service scattered around five stations - Werneth, Central, Mumps, Clegg St and Glodwick Rd - never really fulfilled the sum of its parts. Since 2014 the Metrolink tramway has provided an excellent service along Union Street, but it is symptomatic of Oldham's decline that the new Mumps stop provides a park-and-ride car park for passengers travelling elsewhere, presumably to Manchester.
©Alan Godfrey, October 2014
Principal sources: John Beever, A History of Oldham Churches (Neil Richardson, 1996); Duncan Gurr & Julian Hunt, The Cotton Mills of Oldham (3rd ed, Oldham 1998); Clare Hartwell et al, The Buildings of England: Lancashire: Manchester & the South East (Yale, 2004); Brian R Law, Oldham, Brave Oldham (Oldham, 1999); Rob Magee, Inns and Alehouses of Oldham 1714-1992 (Neil Richardson, 1992); K.McPhillips, Oldham, The Formative Years (2nd ed, Neil Richardson, 1997); Harold Seville, 'Oldham and its Railways', Railway Magazine (April 1927).
---
You can order maps direct from our On-line Mapshop. For other information and prices, and other areas, go to The Index Page.
---
Maps in the Godfrey Edition are taken from the 25 inch to the mile map and reduced to about 15 inches to the mile. For a full list of maps for England, return to the England page. Alan Godfrey Maps, Prospect Business Park, Leadgate, Consett, Co Durham, DH8 7PW / sales@alangodfreymaps.co.uk / 20 August 2015