Old Ordnance Survey Maps of Halton
---
This is our coverage of the Borough of Halton. The Borough of Halton was created in 1974, combining the Borough of Widnes in Lancashire with Runcorn Urban District in Cheshire, together with some neighbouring parishes. It became a unitary authority in 1998. Though it straddles the Mersey, it is in Cheshire for ceremonial purposes but since 2014 has strengthened its ties with Merseyside as a member of the Liverpool City Region Combined Authority.
All maps are available from our On-line Mapshop.

The following titles are all taken from the OS 25" maps and reduced to a scale of approximately 14 inches to the mile.
---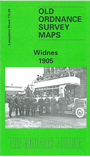 The following maps are in the Halton area: