The Use of Maps for Family Historians
Sarah Lee
---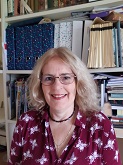 I was thrilled when Alan asked me to write this article on the use of maps for family history. As a professional genealogist I find maps integral to, and the most joyful part of any research which I undertake. I can't imagine doing a piece of research without using maps!
In general I think that maps are an underused resource. For centuries people have been drawing maps for a huge variety of reasons. One accurately drawn map can replace paragraphs of writing, succinctly showing the viewer what is relevant. There are maps available for every period; however the number and quality does vary tremendously. Just recently I was looking at a copy of a 1699 map; it had been drawn to show the position of salt works in the 'Manor of Alwarby'. It wasn't that I was interested in the Cumbrian salt industry like its creator but I was particularly interested in the manor and the villages shown. So it is important to remember that a map created for one reason may be useful in many ways.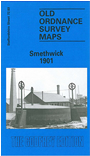 Family researchers often hit 'brick walls' or have dilemmas with nineteenth and early twentieth century research. The first Ordnance Survey Map was published in 1801 and as the century progressed more and more maps were published. So they are particularly useful when used in conjunction with the census returns. The 1901 census map of Smethwick is fairly typical of an industrial town at this time; it shows streets of densely packed housing adjacent to factories and other industrial sites. James Bond and his wife, brother and two young children live on Wills Street. James and his brother are listed as labourers in a Beer Brewery. Wills Street is located just 5-10 minutes' walk from the Cape Hill Brewery and the Windmill Brewery. There are three schools close to it too. So if I was researching James and his family I would be looking to see if any records survive for those breweries and schools to see if James and his children are mentioned. When researching a family I try to find period photographs of the area where the family lived so I would also be using the map to identify streets and buildings which were close to their home and then searching on the internet for photos.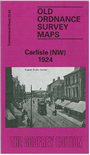 Although James and his family are in the Church of England parish of St. Michael's they might well belong to another denomination or faith. Maps are so useful at showing other places of worship which may or may not still exist, and of course their records may or may not still exist too. An example is Holy Trinity Church in the centre of Carlisle; it was opposite Carr's Biscuit Works and it was built in the 1820s and demolished in 1982. The biscuit packers lived in the closely packed streets which surrounded both buildings. The site is now a playground and many gravestones were moved to line the perimeter wall. Its records are in Cumbria Archives but without maps would you know to look at them? Would you go and walk around the playground and read the inscriptions on the gravestones?
Studying a local map can often explain a surprising find! Prior to cheap mass public transport our ancestors were limited in the area where they could go 'courting'. With only one day off or an afternoon you had to be able to walk there and back and still have a reasonable amount of time with your 'amour'. Maps clearly show obstacles such as rivers, hills and mountains. Later maps show tramways, railways and canals which might aid or hinder such courting! The building of the Solway Viaduct meant that people from Annan and surrounding district could easily get together with the villagers on the other side of the Solway; prior to 1869, and since 1939 it was and now is a 35 mile round trip by road or a hazardous crossing in a rowing boat.
As well as OS maps there were maps created to show manors, estates, farms, poverty, enclosures, industries, planned developments and government maps for taxes and farming; the list is endless! Many of them could help with family research, some are on-line and many more are in local libraries and archives.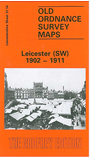 In writing this article I opened up the 1912 map of Leicester which I had inherited from my mother. I found that she had clearly annotated in bright red ink the nine streets where our ancestors had lived; in some cases she'd been able to label the actual house. I am now going to have it framed!
Sarah Lee
www.genealogycumbria.co.uk
---
Most maps in the Godfrey Edition are taken from the 25 inch to the mile map and reduced to about 15 inches to the mile. For a full list of maps for England, return to the England page. Alan Godfrey Maps, Prospect Business Park, Leadgate, Consett, Co Durham, DH8 7PW / sales@alangodfreymaps.co.uk / 6 Nov 2020