Central Middlesbrough 1913
This short history was written to accompany our map of Central Middlesbrough in 1913.
The map is available through our On-line Mapshop
---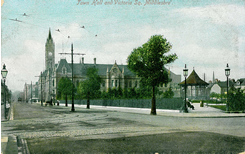 In 1828 Middlesbrough was a hamlet of some 30 inhabitants, and it owed its early development to the Stockton & Darlington Railway, opened three years before. Seeking deeper water for the shipment of coal, Joseph Pease came to Middlesbrough and, with others, set up a company known as the Owners of the Middlesbrough Estate. They purchased about 500 acres of land, stretching from the Tees southward to Southfield Road; but it was the growth of iron works, and especially the discovery of iron ore in the Cleveland hills, that set the basis for the town's growth and prosperity. The original town was N of this map, beyond the railway station, but as the population grew the streets began to spread, and the borough boundaries were extended. By 1858 the population was 16,200; by 1881 it had surged to 55,934 and in 1911 to 104,767.
During the 1850s villas were built at Southfield Road, still a good distance from the town, for leading businessmen such as William Fallows and E Gilkes, who must have had a splendid view out into the country, towards the North Yorkshire Moors. However, such villas were soon an uncommon sight in Middlesbrough itself, where most housing was in the form of terraces, and most senior managers who could afford it preferred to commute in from the outlying villages. Houses for employees needed to be near their work and in 1860 some 544 acres of land were purchased from Thomas Hustler, owner of the Acklan Estate; these covered the area around Newport, extending N to the Tees, and formed the Cannon and Newport wards. Houses here needed to be built quickly, and their basic nature is graphically shown on this map.
The land also provided space for industrial expansion, largely N of this map, generally known as the Ironmasters District. In 1864 Bernard Samuelson built the first stage of his Newport Iron Works, with three furnaces; two others were added soon afterwards, and this row became known as the "Old Side". During 1869-71 a separate row of three furnaces was built, the "New Side". In 1908 Nr.5 Furnace on the Old Side was redesigned with an oval section, an experiment that preceded by 17 years the work of Kinney and McKenzie on coke production, and an underground tunnel was built for the ore. At the top of the map are the Fox Head Newport Rolling Mills. This area of the town grew rapidly, and by 1875 most streets W of Union Street had been built; however, the depression of the 1880s, when the switch from iron to steel seriously affected Middlesbrough, whose iron ore deposits were unsuitable for the new process, meant that some streets in Newport were never completed. The boundary then was the old Sailors' Trod footpath, which led to the Newport ferry landing; Melbourne, Lamport and Holt Streets, on the S side of Newport Road, stopped at this footpath, which explains why they appear unnaturally truncated.
Middlesbrough is flat and low-lying - it is perhaps surprising that it has not become more of a cycling town - and from the beginning the housing in the Marsh Road area was subject to frequent flooding during high tides or heavy rain. The first flood in Denmark Street and Marsh Road occurred in 1878, but from then it became an almost annual event. In 1909 no less than 394 houses in Newport and the Marshes were flooded, and there was further flooding in 1910 and 1912. Steps were taken to build a pumping station at Cargo Fleet, but contractors complained about the placing of the contracts; the Borough Engineer, Frank Baker, was asked to resign.
The houses near the railway were already degenerating into slums and would be demolished soon after the war. Streets built before about 1875 had a tunnel-back, a rear passage only about three feet wide; this was too narrow for a cart, and meant that night-soil had to be removed by wheelbarrow, an unpleasant duty that was not regularly carried out. Most streets north of Rockcliffe Street were in this form, as are others elsewhere on the map, such as Mount Street and Buxton Street. The Public Health Act of 1875, and subsequent acts concerning Working Class Housing, gave Middlesbrough the power to regulate new house-building. With the pail and ash-pan system of sewage being introduced, future streets were built with 9 feet wide back alleys to accommodate the carts, as in most streets S of Borough Road. It is thus easy to differentiate between the streets developed before and after this time. Rockcliffe Street itself demonstrates this, with the streets on the NE side better served than those on the SW, and there is a similar contrast on the east side of the map, N and S of Russell Street. The night-soil men met at the pound in Gilkes Street at 11pm and travelled the town clearing the privies and middens until 7am, for 5 shillings a night, work that continued until 1924.
Most terraced houses opened directly into the street and few had gardens. However, some larger terraces along Newport Road, dating from the 1860s, may be noted, built for managers and the like, while the houses in Milton Street did have very small front gardens; many of these were built for the self-employed, and often included workshops in the back yards. The streets S of Russell Street dated from the 1880s and later, and were often slightly more spacious. Worth noting here, however, are smaller houses tucked away out of sight; examples of these are in Boswell and Hazel Streets, where very small terraces are partly hidden away behind large terraces.
To serve this growing population a new town centre developed, effectively replacing that to the north. At the heart of this was the Town Hall, with its accompanying Municipal Buildings, opened in 1889 by the Prince and Princess of Wales, and designed by the architect G G Hoskins (1837-1911). Hoskins is best known for his work in Darlington, where he was also the architect for Backhouse's Bank (part of Barclays from 1896), and he obtained commissions elsewhere through Quaker connections. However, the Middlesbrough project has claims to be his masterpiece. The commission was won in competition, appropriately assessed by Alfred Waterhouse; the well-balanced 2-storey but dormered facade facing Victoria Square is impressive, but the tall clock tower of the Town Hall is the major landmark. This still catches the eye when walking up from the station but unfortunately the monolithic 19-storey high Corporation House (today drably retitled "Centre North East"), built W of the Town Hall in 1974, now dominates the townscape as seen from other directions, detracting from Hoskins' work; it is one of several crass planning mistakes of the late 20th century that have damaged the visual cohesion of the town.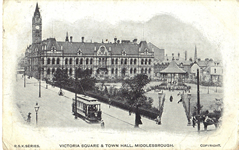 South of the Municipal Buildings a modest town centre was developed, a small but coveted open space amongst the sea of terraces. This space was used for a variety of events, as a cycling track, skating rink or as the venue for visiting circuses, but Sir Samuel Alexander Sadler (1842-1911), mayor at the time, suggested during the Jubilee celebrations of 1897 that it be landscaped as formal gardens in honour of the Queen. Victoria Square was duly opened on 12th July 1901, a little too late for Her Majesty to enjoy its charms, and the first band to perform on the bandstand was that of the Coldstream Guards, with a programme including Elgar's Salut d'amour and selections from Tannhauser. The cultural theme was continued in 1912 when the Central Library was opened, a classical building designed by the London-based partnership of Samuel Bridgeman Russell and Thomas Edwin Cooper, and largely funded by Andrew Carnegie; stock and staff were moved here from their previous premises in the Municipal Buildings. The statue at the northern end of the square, unveiled in 1913 just in time for this map, was of Sir Samuel Sadler himself, a leading founder of the area's chemical industry, and was made by the sculptor Edouard Lanteri in bronze (to withstand Middlesbrough's climate), depicting Sadler as a "genial, lively, hearty, generous gentleman". Sadler, the town's first Conservative MP from 1900-06, was affectionately known as the Colonel, on account of his leadership of Volunteer battalions of the Durham Light Infantry.
Theatres included the Empire Theatre, next to the Town Hall, designed by Ernest Runtz and opened in 1899, the artistes on opening night including Lillie Langtry, Daisy Mayer, "whose dancing was much enjoyed", the Elliott Troupe of trick bicyclists, and several more. As a theatre it had a disappointing history, but is one of just three surviving Runtz theatres. It is now a nightclub. The Hippodrome, on Wilson Street (top of the map) was designed by G F Ward and opened in 1908, artistes including Arthur Prince and Florrie Ford. By 1913, however, it was being used as a cinema, and has since been variously a ballroom, bingo hall and nightclub. The building survives - albeit much altered inside - but is boarded up in 2014. The Grand Opera House, on Linthorpe Road, opened in 1903 with My Lady Molly, though pressure from the Congregational Church over the road meant that a drinks licence was refused. Perhaps this was a bad omen because, despite fine facilities, it struggled as a theatre, changed hands in 1907, and was converted into the Gaumont Cinema in the 1920s. It was demolished in 1971.
The town centre was, and remains, remarkably compact, extending just a short distance from the Corporation Road / Albert Road crossroads, but various facilities are spread along the Linthorpe Road: churches, shops, Victoria Hall (in reality part of the Co-operative stores). Of the churches we might note All Saints, consecrated in 1878 by the Archbishop of York. It was at first colloquially known as the "Ironmasters church", from its benefactors, but later as the "Ironworkers' church" from its congregation, many of its more middle class worshippers having deserted because of its High Church principles. A long term vicar, from 1884-1925, was Father John Stote Burn, but his use of incense and other "Roman" traditions meant that no bishop would visit, and so no confirmations could be carried out here. Burn was, however, much loved for his work among the poor. The church was designed by G E Street, is noted for its windows and fittings, and is Grade II* listed. A hoped-for tower was never built. Attempts by various "business interests" to have it demolished in the early 1960s were thwarted by the then vicar, Father Sharpley, and his flock, but in the mid-1970s a tall office block, blasphemously called Church House, was erected on the site of the old Sunday School, only a few feet away from the church and quite overpowering it. Hopefully the church will outlive the office block, and one day the sun will be able to shine through the east window again.
Other churches demanding notice include St Paul's, on Newport Road, consecrated in 1871 and notable for a "big, aggressive" octagonal tower. It was described by Pevsner as "raw and strong" in 1966 but was demolished the following year as Newport Road was gradually abandoned to the motor car. Further along, St Cuthbert's was designed by Temple Moore (1856-1920) and consecrated in 1901. The building has two slim towers, only one of which is complete. The "very large, serious interior" became a leisure club, with squash courts, and services are held in the church hall next door. Across the map is St John the Evangelist's, on Marton Road, designed by John Norton and consecrated in 1865; the tower was added in 1883. This is a Grade II* listed building, though somewhat unkindly described by Pevsner as "big-boned and dour and not at all appealing"; it is now Middlesbrough's oldest church. John Norton (1823-1904) was a disciple of Pugin and is perhaps best known for his rebuilding work on the exotic Gothic mansion of Tyntesfield, in Somerset, also in the early 1860s. Like All Saints, St John's follows the Anglo-Catholic tradition, and is run in plurality with St Columba's, at the top of the map, another designed by Temple Moore, consecrated in 1902, the site demanding the near octagonal shape of the nave and aisles. The church has a strangely heavy, brick-built, fort-like tower, but Temple Moore's churches are always interesting. The parish is tinged with sadness, for in 1974 its vicar, Fr Raymond Hooper, was murdered in his Wilson Street vicarage by a burglar.
Of the many nonconformist churches we have space only to mention the Park Methodist at the junction of Linthorpe Road and Ayresome Street, opened in 1905 and designed by the Bradford architects W J Morley & Son with an Italianate facade, adorned with a dome. It closed in 1994 - the old Sunday School had already burnt down - and was briefly used as the Temple pub. It is Grade II listed and since 2012 has stood in a Conservation Area, which includes the whole of Albert Park, the immediately surrounding streets and the old cemetery. The church's domed tower provides a happy companion piece to that of the Dorman Memorial Museum across the road. The museum was opened in 1904 and financed by the iron and steel magnate Sir Arthur Dorman, in memory of his son George, killed in the Boer War. Its first emphasis was as a Natural History museum, and a display of stuffed birds remains a notable, if "politically incorrect", feature; but extensions in the 21st century have enabled it to extend its coverage of local history and (essential for all perambulators of maps!) to provide a pleasant tea-room.
Transport plays only a minor role on this map. A relatively modest tramway system was operated in Middlesbrough, initially horse-drawn but electrified in 1898. This comprised two routes, from Norton and Stockton to North Ormesby, and from the Clarence Ferry to Linthorpe; few trams used the section along Parliament Street. Though railways appear in the NW and NE corner, these are better discussed on adjacent maps. Newport station, well placed for the ferries across the Tees (Newport Bridge did not open until 1934), probably opened in 1830 and was included in Bradshaw's by 1847. It was on an increasingly cramped site, however, and was closed in 1915, though it was available for occasional excursions into the 1950s. Across the map we note the three roundhouses of Middlesbrough depot, latterly shed code 51D; bomb damage would render these roofless during the 2nd World War and in 1958 the depot was closed, the locomotives, along with those from Newport shed, being transferred to the newly built Thornaby depot.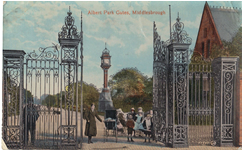 For recreation, the natural direction was to the south, away from the smoke and fumes of industry. Albert Park was opened in 1868 on land purchased from J C Outhred, who built villas around the perimeter. The park was gradually improved: a sundial, giving the time in Melbourne, New York and Middlesbrough, was erected in 1879, a bandstand in 1890, and a maze, based on that of Hampton Court, opened in 1894. Space was also given for cricket and other sports, earlier grounds to the north having been taken over for housing. Nearby stood Ayresome Park; Middlesbrough FC moved here from their Linthorpe Road ground in 1903, bringing a slate-roofed stand with them. The 1910-11 season was rich in incident, for the team didn't drop a point until December. The subsequent decline must have affected the nerves of the Board, for they were suspended following accusations of bribing Sunderland; the chairman, Colonel Poole - thrice mayor of Middlesbrough - was ordered never to enter a football ground again!
Ironworks were dangerous places; it was for this reason that the North Yorkshire Infirmary, opened in 1864, was sited near to the Ironmasters District. Before this, in 1858, there was a serious explosion at a rolling mill that burst one of the boilers, sending debris along with several men hurtling into the river, and cascading others with boiling steam. Immediately Frances Jacques - later known as Sister Mary - came from Coatham to Middlesbrough and, with two others, began to care for the injured. The nearest hospitals were in York and Newcastle, and so she took two houses in Albert Road, followed by two more in Dundas Mews, and soon England's first Cottage Hospital was admitting patients. This served such a need that in 1861 the hospital moved to a permanent building in North Ormesby.
Most men living in these streets worked at the various steel works but, as with other towns in the North East, there was little paid employment for women, and work in shops was frequently unpaid for the first two years. With only one wage-earner, families were vulnerable to the hardships of illness or unemployment, and from the 1870s there were rapid swings of fortune for Middlesbrough. The move from iron to steel caused severe depression from 1875-88, and in 1886 there were 813 unemployed people in the workhouse, with another 7,212 on outdoor relief. Soup kitchens served penny dinners and a stoneyard was opened near Newport Ironworks to employ 1,000 men; this was used until 1911. In 1892 15,611 men were on relief, this out of a male population of perhaps 40,000. The situation in 1903 was even worse, while in 1907-8 thousands of men, starving without relief, demonstrated for work and food. Even many of those in work found it difficult to make ends meet on little more than a pound; the reason women wore long skirts, said Lady Bell, was to hide their wretched boots, and even their underwear was sometimes pawned from one week to the next.
Middlesbrough originally stood within Stockton Poor Law Union and a Middlesbrough Union was not formed until 1875. A competition was held for the design of a new workhouse, and this was won by the Leeds architects Perkin & Son. It was fully opened by September 1879, when 390 paupers from neighbouring unions had been brought here. Conditions were poor and often insanitary, while the master, Robert Bray, was described as domineering and vindictive. He was also corrupt, and was criticised by the Guardians for allowing his adult son to live here rent free, but this did not stop his son succeeding him as master, at the age of 28, in 1886. In the 1890s there were several extensions and new buildings, and its population peaked at 965 in the early 20th century during a miners' strike. This figure fell significantly during the 1st World War, to 360 by 1918, and the complex came to be known as Holgate Poor Law Institution. The Infirmary buildings later became part of Middlesbrough General Hospital.
1913 was one of the good years in the iron works, with preparations for war; a third of England's output of iron and steel was produced here. But by August 1914 Middlesbrough was the first town in the country to stage an open-air recruiting appeal, at the Infirmary corner. By September 5,000 had already enlisted, and over 20,000 eventually joined the armed forces; some 3,300 never returned. Workers from other parts of the country were recruited to work in the steelworks to maintain demand, and to join the dole queues after the war. The cycle of boom and depression had returned with a vengeance.
©Alan Godfrey, 1987, revised 2014
---
Principal sources and further reading: Lady Bell, At the Works (1907); William Lillie, The History of Middlesbrough (1968); Middlesbrough's History in Maps (Cleveland & Teesside Local History Soc 1981); and various books by Paul Stephenson incl Central Middlesbroough, Pt.3, Places of Worship in Middlesbrough and Linthorpe Road & Linthorpe Village (all Middlesbrough Libraries, 2003-4). Standard websites include www.arthurlloyd.co.uk for theatres, www.workhouses.org.uk for workhouses.
---
Follow this link for more details of our Middlesbrough 1913 map; or here for the whole Yorkshire series.
You can order maps direct from our On-line Mapshop. For other information and prices, and other areas, go to The Index Page.
---
Maps in the Godfrey Edition are taken from the 25 inch to the mile map and reduced to about 15 inches to the mile. For a full list of maps for England, return to the England page. Alan Godfrey Maps, Prospect Business Park, Leadgate, Consett, Co Durham, DH8 7PW / godfreyedition@btinternet.com / 24 July 2015