Old Ordnance Survey Maps of Dunbartonshire
---
This page summarises the local government organisation of Dunbartonshire or Dumbartonshire since 1890.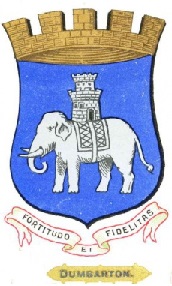 Dunbartonshire was one of Scotland's 34 traditional counties and was unaffected by the reorganisation to 33 counties in 1890. Though the county town was Dumbarton, the spelling of the county varied between Dunbartonshire and Dumbartonshire, the former becoming the more official one and that used by the Ordnance Survey.
The main body of Dunbartonshire was around Dumbarton and Helensburgh but there was also a detached area or exclave further east, around Cumbernauld and Kirkintilloch. Surprisingly this situation was not changed in the reorganisation of 1890.
In 1890 Dunbartonshire had the following Burghs: Dumbarton (a royal burgh), Clydebank, Cove & Kilcreggan, Helensburgh, Kirkintilloch, Milngvie. Bearsden became a burgh in 1958 and Cumbernauld in 1968.
---
In 1975 there was major reorganisation as the counties were abolished and replaced by 12 Regions. Dunbartonshire was merged with Ayrshire, most of Argyll, Bute, Dunbartonshire, Lanarkshire and Renfrewshire to form Strathclyde Region.
Beneath the region in a three-tier structure were 6 sub-regions, to some extent based on the old counties. These were: Argyll, Ayr, Dunbarton, Glasgow, Lanark, and Renfrew.
Most sub-regions were further divided into districts. Dunbarton was divided into 5 district councils: Bearsden & Milngavie, Clydebank, Cumbernauld & Kilsyth, Dumbarton, Strathkelvin.
Strathkelvin included areas from Dunbartonshire, Lanarkshire and Stirlingshire, including the towns of Bishopbriggs (from Lanarkshire) and Kirkintilloch (from Dunbartonshire).
---
In 1996 there was further reorganisation as the Regions were abolished and replaced by 32 Unitary councils. The large Strathclyde was split up into 12 unitary councils: Argyll & Bute, East Ayrshire, East Dunbartonshire, East Renfrewshire, City of Glasgow, Inverclyde, North Ayrshire, North Lanarkshire, Renfrewshire, South Ayrshire, South Lanarkshire, and West Dunbartonshire. The name Strathclyde was retained for some bodies, such as the fire brigade.
The western part of Dunbartonshire, around Helensburgh was transferred to Argyll & Bute.
West Dunbartonshire unitary council is the area around Dumbarton.
East Dunbartonshire covers the area immediately north of Glasgow and includes Bearsden, Bishopbriggs, Kirkintilloch and Milngavie. Cumbernauld was transferred to North Lanarkshire.
---
For a list of Dunbartonshire maps go to the Dunbartonshire page. For a full list of Scottish maps, return to the Scotland page
You can order maps direct from our On-line Mapshop.
---
Minor changes are not listed here, but please advise us of any significant errors or omissions.
---
Alan Godfrey Maps, Prospect Business Park, Leadgate, Consett, DH8 7PW. Tel 01207 583388
---
The Godfrey Edition / sales@alangodfreymaps.co.uk / 11 November 2016