Stockton & Darlington
Alan Godfrey
---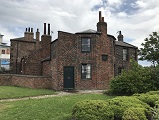 As many of you will know, we are now embarking on a group of ten maps for Stockton and Darlington. How did this come about?
Over the last 2-3 years we have several times offered subscriptions to groups of ten maps for a county or area and this has proved a very rewarding way of expanding our series, with groups for Fife, Hampshire, south Wales, Essex and Derbyshire emerging as a result. In fact, we went back to Derbyshire to publish another ten, greatly stregthening our coverage in this county.
Currently we are working on a group of ten for Sheffield and Rotherham, which is well advanced, while another group for 'the Liverpool City Region plus Warrington' needs only one map for completion. I am sure everyone will be happy with this group as it includes several lovely coloured maps, but the lockdown delayed things as I had to cancel future trips to the area. Nevertheless, the tenth map is at the printer and should be published quite soon.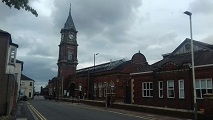 As we emerged from lockdown, with long distance travel still looking distinctly untempting, I began to look for areas which I could reach easily from my home near Durham, and so a group for the Teesside area made sense. Maps for these towns have always sold quite well, they are an easy drive away, and - carefully chosen - they are full of interest with railways, industry and other features to interest us all. I narrowed it down and decided on ten maps for Stockton and Darlington. The borough of Stockton includes towns and villages such as Billingham, Norton, Egglescliffe, Yarm and Thornaby (once a borough in its own right) so there would be plenty to choose from here, while Darlington includes interesting villages such as Heighington and Hurworth-on-Tees. We won't manage all of these - not this time anyway - but can promise you a good selection.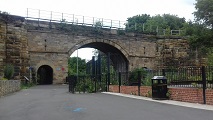 So for the last few weeks I have been heading down to Teesside once a week, normally on Sunday afternoons, to perambulate a map, or just to discover a town I didn't know - and I am surprised at how little I knew Darlington or Stockton, and Thornaby not at all. I intend to write most if not all the introductions to these maps myself. It is, of course, wonderful to be out on the research trail again! The thumbnails lead to images of what are expected to be the first four titles, the first two of which should be published in late September or early October. Some of you might notice a common theme to the four photos.

Later in the year I plan two further 'groups of ten' projects, each with a subscription option. Firm details will hopefully emerge in our next Newsletter but I think Southampton is a major town that is under-represented in our range of maps, so we are looking at the possibilities there. And, still looking at the potential for 'day return' trips, we haven't produced many maps for Leeds or Wakefield recently, so perhaps a group of ten maps there might follow.
Watch this space!
Meanwhile, if you are interested in subscribing to the ten maps of Stockton and Darlington, simply follow This Link. At £ 25 for ten maps, post free, a subscription is excellent value, and helps and encourages us in the development of the series.
---
Alan Godfrey Maps, Prospect Business Park, Leadgate, Consett, Co Durham, DH8 7PW / sales@alangodfreymaps.co.uk / 14 July 2020